L*O*V*E Project #3
" I BRING you with reverent hands
The Books
of my numberless dreams…"
~Yeats
 "All you need is love love. Love is all you need" – the Beatles.
This is the third and final part of the L*O*V*E project. I have to say the whole experience has been amazing, surprising, and so more than I thought it would be. What started out as curiosity about how others think about love with the month of February approaching, has turned into something far more complex than I ever expected. Those who participated brought in more depth, honesty, groundedness and intimacy than what I had hoped for.  Connection, purpose and total honesty about love resonated through all of the answers. This deepens my love for my fellow human beings and it deepens my core faith of love. I am full of gratitude to those who responded to my questionnaire.
As the month has progressed and the big "love" day is over, hopefully everyone is still feeling the love surrounding them.  My dream is that love will get more attention this year and continue to grow for each one of us.  In fact, I am interested in creating a forum where we can have live conversations around the topic of love. Please let me know if you are interested…After all, in my L*O*V*E project it was revealed that  a whopping 77% of us believe love is our purpose here in life.
The 3rd and final question I asked was  "Will you describe a moment of love that transformed you?"
It is the only question on the questionnaire that is focused on an experience. And participants were asked to focus on only ONE experience at that and to share it. The other questions addressed definitions and why love is important.  With the first 2 sets of questions the words describing love were:  a force, an emotion and a feeling. Only with this question did the word experience come into play.  In which my curiosity gets fueled again: can or does love exist without experiencing it?
We all experience life each and every moment so to capture just one those moments and describe it you know it is a biggie.  This is especially true when that experience is centered around a moment of love and of transformation.
I have had these answers with me for 4 weeks now and this part of the project has held me in fascination. I have found holding these very personal moments of transformation by the way of love humbling and an honor.  The beauty of each and every answer resonates deeply within me. The answers at first glance were easy to categorize in a way… however,  with each reading I am no longer so sure of this categorizing as there seems to be a blending and overlapping with the answers. See for yourself…
"Will you describe a moment of love that transformed you?"
The first apparent difference I found in the answers to this question was whether the participant had children or not.  For those who do have children, that was central to the experience most chose to speak of.
Keri wrote, "The moment of love that transformed me was the moment I looked into the eyes of my newborn child."
Shannon answered,  "The ultimate moment of love for me was when my child was born.  I knew my life would never be the same.  I would always be there for that little person and I would do anything for him. 19 years later I feel exactly the same."
Peter also spoke of the birth of his child  "… I was the first one to hold him…All the while I couldn't take my eyes off him, holding him and watching him as he tried to focus his eyes.  I felt completely transformed and completely dumbfounded by what I was experiencing. I had prepared so very much for the experience of his birth and yet it was completely different than I ever could have expected."
Ahhh, new life, fresh and sweet. I must say I wasn't too surprised by this being the touchstone experience for most who have had children as it is a powerful moment in our lives. For those of us who have had children we are changed the moment these sweet spirits arrive in our lives. It is a mighty experience to say the least.
What did surprise me, and I am still not entirely sure why, were the answers given by those who have not had children. My heart soared at these answers, as they are varied, yet all incredibly profound and very powerful. They speak of the spiritual side of love – of being loved and opening to that love.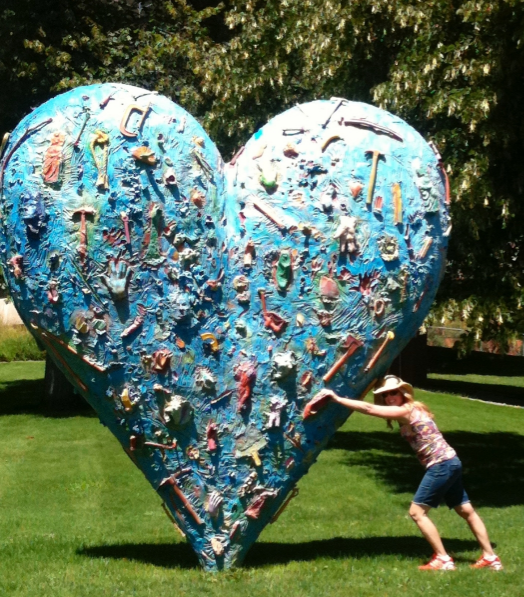 Me on the campus of Washington State University having fun with a sculpture
Your task is not to seek for love, but merely to seek and find all the barriers within yourself that you have built against it." ~ Rumi  (provided by Emily)
"When I fell in love with myself. For many years I had been searching for love in all the wrong places, seeking outwards, but the moment I turned that search inward I found true love, I found myself. I found peace".  – Emily
"In this…not that I loved God, but that He loved me…" – Dolores
And Dana's answer:  "I have had several moments but the one that I will share was when I was on my first vision quest and received my vision.  It was a moment that cracked me open, I looked at the face of Spirit and love looked back.  It was a powerful, steady, universal, no-bull love that woke up a part of me that had slept with self-hate for so long it was comfortable.  I wept then for a long time and weep when I think of that experience.  It prompted me to do the work I needed to see that connection daily…"
Though they are all intensely personal I see a similarity in these answers.  There is the flash of transformation – from these answers I get the feeling of it happening in an instant. Of course we don't know how long these people were pregnant in their search for transformation and there is no measurable timeline as there is in a pregnancy. Even with human birth it is often different than we anticipate. What this shows us is that LOVE can change us and our direction in a blink of the eye.  Truly A-mazing stuff, this love.
There is a few more aspects I would like to address in this part of my series:
In full disclosure, only 2 men answered the questionnaire I sent out.  I mention this because I find it interesting that both of the men mentioned romantic love in their answers to this question.
Here is Dan's answer : "only one? i do like to think of love as being a constantly developing continuum of emotion that transforms me every moment, but if i can pluck one moment of transformation that caught my breath and brought a tear to my eye was in the snow just outside of tahoe…i had just finished doing my first snow angel and aimee said 'yes'…a yes to marriage and a yes to deciding that we as a couple would be one..yep it was sweet!"
Dan speaks to a moment when you know for certain you will never be the same again. To have someone want to be by our side and witness our lives, is true trust in this thing called love.
What I find interesting is that while a few women did mention romantic love the transformation that they refer to was in a different vein. They speak of transformation coming by the way of a crossroads and making a choice to stand in love in a new way for themselves.
Read on:
"While keeping private things private, it was a time early on in my relationship when my partner had betrayed my trust and I knew deep down in the very core of me that he was the one and that this was a situation which must be worked through. It wasn't a fear of being alone that drove it, it was that deep intense mind-blowing love that I had never felt with anyone before… when I gave him the opportunity to make things right rather than walk away, and didn't listen to the naysayers, he showed his true colors and really stepped up to the plate to be the man I already knew he was. I was looking at the real, imperfect man and no longer looking at "potential" as we often do when we're younger."
"It was a lifetime ago that my life seemed to be falling in around me and divorce proceedings were begun. At my darkest hour, when I was face down on my bed and weeping that questions of anguish slipped from between my lips that expressed my broken heart. 'God, who loves me? No one loves me…' Love's voice spoke my name and said, 'LINDA, *I* love you!' Now I don't know that if anyone else was in the room with me that day that they would have heard the voice that spoke those life-giving, hope-giving words to me, but they were heard loud and clear by me!!! New strength filled my being. The tears evaporated and I set out with new vigor to rekindle the lost love in my marriage. 42 years later and lots of trials, errors, patience & growth experienced, we have been drawn closer than I could even have imagined! I was transformed by knowing that I was loved beyond the earthly plane…"
Two gripping examples of women choosing to trust love and love was trustworthy. Each time I read these two answers, I am so struck by the depth of transformation and the fierce courage to take the plunge into love.
Although this next response is not in the romantic category, the relevance to choice is clear and I want to share it:
"My husband and I were traveling in South Korea and had driven to a remote place.  We had gone far beyond the reach of Seoul where many understood and spoke English. It was essential to communicate, but how?  The women I met would look into my eyes as I looked into theirs. With our eyes and hand gestures, we connected! My husband still talks about the magical way we "talked," without a common language, with more depth than most people who had no such barriers.  I felt deeply loved, and loving, a bond that reached across cultures. It still makes me warm and smile today.  I am reminded that this can happen with my neighbors, my spouse, the grocery clerk – …"
For me the metaphor of the crossroads is in this experience. We can look at a situation, then make a choice of how we want to "BE" in that moment, situation or relationship. All of the people who answered this question could have made different choices. To trust in love enough to parent, to get married, to transform self-hatred, to stay and give someone the chance to make things right, to look deeply in another's eyes to connect:  this is what love is made of folks and it is absolutely HUGE.
In co-creating with my coaching clients I see the choice for love being made every day. Even when the risk may be heartbreak, love is worth taking the risk as these beautiful people have shared with us.
My last questions to you are these:
Where are YOUR diamonds of love?  Where in your life can YOU bring some yummy love transformation? And who are you going to be in the process of transformation through love?
I want to send a special thanks of love to every single person who participated by answering my questions and to all of you who have read this series. I would like to keep the conversation going – I have had requests for a forum where we can discuss these findings together… and explore love more.  If you are interested in joining, please let me know.  And feel free to contact me with any other thoughts on love.  I'd L*O*V*E to hear from you.